Eskal Foods

Chocolate Coated Wafers
130g
Product Description
Delicious milk chocolate coated wafer fingers oozing with chocolate cream.
Gluten Free
May contain traces of peanuts and tree nuts
Product of Israel
Kosher Parve
Ingredients: Milk Chocolate (40%), Evaporated Cane Juice, Cocoa Butter, Full Cream Milk Powder, Cocoa Mass, Emulsifier (Soy Lecithin), Salt, Water 60%, Evaporated Cane Juice, Vegetable Oils and Fats (Non Hydrogenated), Potato Flavour, Cocoa Powder, Emulsifier (Soy Lecithin), Salt, Vanilla Extract, Raising Agents, (Sodium Bicarbonate, Ammonium Bicarbonate). Milk Chocolate: Min Cocoa Solids 35%, Min Milk Solids 20%
ISBN: 9310489001810 SKU: 271012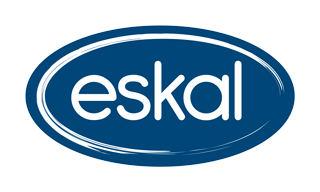 About the brand...
Eskal food products was established by an Australian family by the same name in the 1960's selling pickled herrings and fresh horseradish. Since then they have come a long way, because today the Eskal range contains over 70...