Grants of Australia

Fresh Mint Toothpaste with Fluoride
110g
Fluoride to fight cavities and tooth decay
Tea tree oil to fight bacteria and inflammation
Product Description
Grants Fresh Mint Toothpaste with Fluoride doesn't just clean your teeth and gums but strengthens and protects them with fluoride and antibacterial tea tree oil, lessening the likelihood of cavities and gingivitis. Natural mint oil gives it a cool, refreshing taste and gives you fresher breath that lasts all day.
Ingredients: Active: Sodium Monofluorophosphate. Other: Calcium Carbonate, Water, Vegetable Glycerine, Xylitol, Silica, Sodium Methyl Cocoyl Taurate, Cellulose Gum, Dicalcium Phosphate Dihydrate, Spearmint Oil, Peppermint Oil, Stevioside, Menthol, Tea Tree Oil, Magnesium Hydroxide, Potassium Chloride, Natural Flavour & Fragrance (Mint Oil, Eucalyptus Oil, Cardamom, Anise, Caraway, Coriander, Rosemary, Clary Sage) Limonene, Linalool
ISBN: 9312812005106 SKU: 69522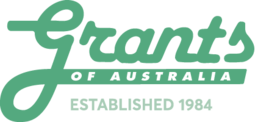 About the brand...
Grants of Australia is a proudly Australian owned and operated company, established over 20 years ago, dedicated to producing the highest quality natural products that everybody can afford. Grants products were established...