Grants of Australia

Kids Natural Blueberry Burst w/Low Fluoride Toothpaste
75g
With low fluoride for cavity protection
All Natural, blueberry-flavoured toothpaste
Free from SLS and parabens
Certified vegan
Never tested on animals
Product Description
Grants Kids' natural toothpaste has been tested on and approved by kids, so you know they're going to love brushing their teeth with this Blueberry Burst toothpaste. It has a pleasant blueberry flavour, boosted by natural sweetener Xylitol (from the bark of trees), which has been shown to reduce the bacteria in the mouth that cause tooth decay while adding a touch of sweetness your littles will love. And with low-fluoride it can help protect against cavities too!
Ingredients: Calcium Carbonate, Aqua, Glycerin (Vegetable), Xylitol, Silica, Sodium Lauroyl Sarcosinate (Coconut), Cellulose Gum, Dicalcium Phosphate Dihydrate, Natural Blueberry Flavour, Sodium Monofluorophosphate#, Stevioside (Stevia), Aloe Barbadensis Leaf Juice (Certified Organic), Spearmint Oil, Magnesium Hydroxide, Potassium Chloride, Natural Herbal Extract*.
ISBN: 9312812001207 SKU: 69525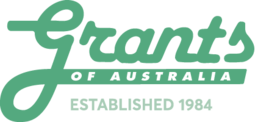 About the brand...
Grants of Australia is a proudly Australian owned and operated company, established over 20 years ago, dedicated to producing the highest quality natural products that everybody can afford. Grants products were established...