Grants of Australia

Natural Toothpaste Fresh Mint Travel Size
25g
Fresh Mint with Tea Tree Oil
All-Natural
Mini size perfect for travel
Not tested on animals
Vegan
GMO free
Product Description
Grants Extra Fresh Toothpaste with organic tea tree oil has a strong, fresh minty taste that helps keep teeth and gums thoroughly clean and leaves the mouth feeling sparkling fresh. This mini version of Grant's popular flavour is the perfect size for travel, whether in your handbag for a quick freshen up between meals or farther afield.
Tea tree oil is well known for its antibacterial properties for thousands of years. Australian Aborigines would collect the oil-covered leaves of the tea tree plant and rub the leaves on their skin to aid the healing of cuts, bites, burns and other skin ailments.
With the benefits of herbs such as cardamon, caraway, celery, coriander, rosemary, sage, thyme, dill, eucalyptus, and mint providing pleasant aromatic flavors, Grants Extra Fresh Toothpaste with organic tea tree oil also purifies and sanitises the palate and helps aid digestion.
Grants Toothpastes includes no harmful aluminium, fluoride, sugar, sodium lauryl sulphate, parabens or genetically modified ingredients.
Ingredients: Water (aqua), Calcium Carbonate, Glycerin(vegetable), Xylitol, Silica, Sodium Lauroyl Sarcosinate, Cellulose gum, Dicalcium Phosphate Dihydrate, Natural Flavours – mint, eucalyptus, cardamom, celery, caraway, coriander, dill, thyme, rosemary and sage, Stevioside, Melaleuca Alternifolia (tea tree) Leaf Oil(certified organic), Magnesium Hydroxide, Potassium Chloride
ISBN: 93555319 SKU: 69516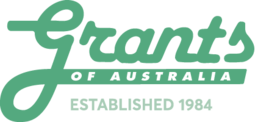 About the brand...
Grants of Australia is a proudly Australian owned and operated company, established over 20 years ago, dedicated to producing the highest quality natural products that everybody can afford. Grants products were established...