Product Description
Pure, gentle Lecithin & Almond Soap helps restore and maintain vital moisture and pH balance of the skin. The ingredients supply vitamins and organic acids. Especially rich in vitamin E. This nourishing soap is enriched with sesame oil, paw paw, wheatgerm oil, and honey. Natural herbal oils of patchouli, ylang ylang, cassia, eucalyptus, globulus and geranium provide the lovely fragrance.
Ingredients: Sodium Palmate; Sodium Cocoate; Water; Fragrance; Honey; Lecithin Oil; Wheat Germ Oil; Sodium Chloride; Glycerin; Sodium Etidronate; Tetrasodium EDTA; Papain; Sesame Oil; Almond Oil; Yoghurt Powder; Food Red 1, 14700, 4548-53-2, F D & C Red # 4
ISBN: 9415991240310 SKU: 2424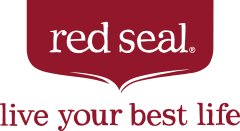 About the brand...
Red Seal Natural Health are 100% New Zealand owned and operated since 1923, and are a highly regarded and trusted brand with three core product categories – vitamin and herbal supplements; herbal, fruit and green teas, and...