Red Seal

Mint & Matcha
20Teabags
Sorry, we no longer stock this product
Similar products you may like...
Product Description
Red Seal Mint & Matcha tea is a delicious energising drink for all seasons. You can brew it hot if you like, but you don't have to – the tea is just as flavourful when soaked for three to five minutes in water straight from the tap or popped in your water bottle before you go out. Mildly sweetened with natural stevia, it contains no added sugar.
Ingredients: Spearmint, Green Tea, Natural Flavouring, Stevia, Matcha Granules, Tea Extract
ISBN: 9415991233312 SKU: 75936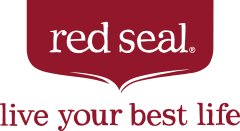 About the brand...
Red Seal Natural Health are 100% New Zealand owned and operated since 1923, and are a highly regarded and trusted brand with three core product categories – vitamin and herbal supplements; herbal, fruit and green teas, and...