Red Seal

Natural Toothpaste
110g
Mild, kid-friendly mint flavour from herbal extracts
Sweetened with natural stevia and licorice
No fluoride, parabens, peroxide or tricoslan
Product Description
Red Seal Natural Toothpaste is perfect for the whole family – adults will love its minty freshness and children will appreciate its mildness and mild sweetness. The freshness comes from real peppermint, eucalyptus oil and other herbal extracts, the sweetness from stevia and licorice extract, and there are no nasties like parabens, peroxide, potassium nitrates, tricoslan or strontium chloride. Red Seal have also elected not to include fluoride, which may be beneficial in some cases but which may also cause unsightly mottling of the teeth. The formula includes calcium carbonate to polish teeth and has a natural antibacterial effect thanks to the plant-derived compound totarol.
Ingredients: Calcium Carbonate, Water, Sorbitol, Glycerine, Sodium Lauryl Sulphate, Silica, Cellulose Gum, Magnesium Aluminium Silicate, Stevia, Eucalyptus Oil, Menthol, Herbal Mint Flavour, Peppermint Oil, Licorice Extract, Zinc Oxide, Aniseed Oil, Totarol
ISBN: 9415991240150 SKU: 75938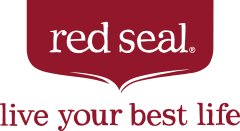 About the brand...
Red Seal Natural Health are 100% New Zealand owned and operated since 1923, and are a highly regarded and trusted brand with three core product categories – vitamin and herbal supplements; herbal, fruit and green teas, and...