Red Seal

Smokers Toothpaste
100gm
Product Description
When used properly and regularly, the fine dolomite powder in Smokers Toothpaste helps, without harshness, to remove stains caused by food, drink and tobacco. Red Seal Smokers toothpaste takes on stains that ordinary toothpastes leave behind.

Its double mint flavour ensures doubly fresh breath. You will be amazed at how fresh and smoothly clean your mouth will feel. For best results brush after every meal and whenever you want your breath to be at its intimate best.
Ingredients:
Calcium carbonate (Mild abrasive and polish)
Purified water
Sorbitol (Keeps toothpaste moist, sweetener)
Glycerin (Vegetable extract to keep toothpaste moist, sweetener)
Fine dolomite powder (Gentle abrasive and polish)
Sodium lauryl sulphate (Coconut-based foaming agent)
Silica (Mild abrasive & thickener)
Carboxymethyl cellulose (Gumming agent sourced from plant fibre)
Magnesium aluminium silicate (Derived from naturally occurring minerals, thickener)
Sodium saccharin (Sugar-free sweetener)
Hydroxybenzoates (Anti-microbial agent)
Flavour: Menthol, Peppermint Oil, Aniseed Oil, and Eucalyptus Oil
ISBN: 9415991240204 SKU: 2420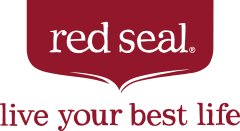 About the brand...
Red Seal Natural Health are 100% New Zealand owned and operated since 1923, and are a highly regarded and trusted brand with three core product categories – vitamin and herbal supplements; herbal, fruit and green teas, and...