Product Description
Since the time of Cleopatra, milk has been treasured as a nourishing food for skin.

Yoghurt will soothe and nourish the skin. Oatmeal is an excellent exfoliator which helps remove dead skin from clogged pores.

This soap is especially suited to those with an oily skin type because of its gentle friction and stimulating action. A delicate blend of citrus and floral provides the lovely natural fragrance.
Ingredients: Sodium Palmate; Sodium Cocoate; Water; Oatmeal; Fragrance; Sodium Chloride; Bran; Glycerin; Yoghurt Powder; Titanium Dioxide; Sodium Etidronate; Tetrasodium EDTA
ISBN: 9415991240334 SKU: 2422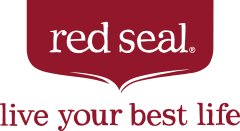 About the brand...
Red Seal Natural Health are 100% New Zealand owned and operated since 1923, and are a highly regarded and trusted brand with three core product categories – vitamin and herbal supplements; herbal, fruit and green teas, and...