Red Seal

Raspberry Leaf Tea with Rose
20Teabags
Sweet, aromatic tea
Traditional tea for women's health
Sip during menstration & last weeks of pregnancy
Product Description
Raspberry Leaf Tea is a traditional herbal tonic honoured by women around the world for its ability to help ease the discomfort of menstration, assist in softening the uterine wall during the third trimester of pregnancy in preparation for labour, to support uterine health, and for digestive health. Red Seal's Raspberry Leaf Tea is naturally caffeine free with the sweetness of rose for an aromatic tea you'll love to sip. Enjoy up to 3 cups of this caffeine free tea to reap its therapeutic benefits. If enjoying during pregnancy be sure to consult with your heath care provider prior to consuming; not suitable for consumption prior to 36 weeks' pregnant.
Ingredients: Raspberry leaves (Rubus idaeus) 95%, Rose petals (Rosa) 5%
ISBN

:

9415991235545

SKU

:

69652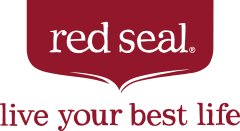 About the brand...
Red Seal Natural Health are 100% New Zealand owned and operated since 1923, and are a highly regarded and trusted brand with three core product categories – vitamin and herbal supplements; herbal, fruit and green teas, and...