Carob and Cashew. Surely a flavour match made in heaven! But these protein balls are packed full of more than just a delicious flavour punch!
Carob is a gluten-free, high-protein, low-GI food that's rich in vitamins A, B, B2, and D2, as well as antioxidants and the minerals calcium, magnesium and potassium. It's good for the digestion and helps control weight. Cashews are high in copper and vitamin K. They assist to reduce the risk of diabetes and lower blood sugar levels. Like carob, cashews have a lot of protein and antioxidants, and they're also a good source of cholesterol-lowering unsaturated fats.
With added goodness from pumpkin and sunflower seeds, an extra protein boost from your choice of protein powder, these easy-to-prepare protein balls are sure to become a new household favourite. The kids will have no clue that they are good for them too!
Time 20mins I Refrigerate 2hrs before serving I Serves 12 (approx.)
Ingredients:
1 cup of pitted dates, chopped into small pieces
¼ cup raw, unsalted cashews (or use any activated nut such as almonds or pecans)
¼ cup pumpkin seeds (pepitas)
¼ cup sunflower seeds
2 tablespoons of cashew butter (or use almond butter or tahini)
2 tablespoons roasted carob powder and extra for dusting
¼ cup of unflavoured/vanilla protein powder (Whey, Pea or Soy protein)
OR ½ cup desiccated coconut if you prefer to skip the protein powder
2 tablespoons extra virgin coconut oil, melted
Instructions:
In a food processor, blend the nuts and seeds until very finely chopped.**
Add the chopped, pitted dates and the coconut oil and continue to blend until a fine paste forms. The more you blend at this step, the smoother your balls will be.
Add remaining ingredients and blend until well combined.
If mixture too thick remove from blender and mix by hand.
Take a tablespoon amount of the mixture and roll in your hands, into a ball.
Dust the ball with extra roasted carob powder and refrigerate for 2 hours.
Notes: Sometimes the mix can vary in consistency. It might be too runny or too stiff. If too runny, you can add a little more protein powder or desicated coconut. If the mix is too stiff, try adding a bit more coconut oil or a little liquid.
** The consistency of these protein balls depends on how finely the nuts are chopped in the beginning. If you like crunchy protein balls with lots of texture, leave the nuts larger. If you prefer smooth protein balls, make sure the nuts are chopped and blended very finely, before proceeding to step 2.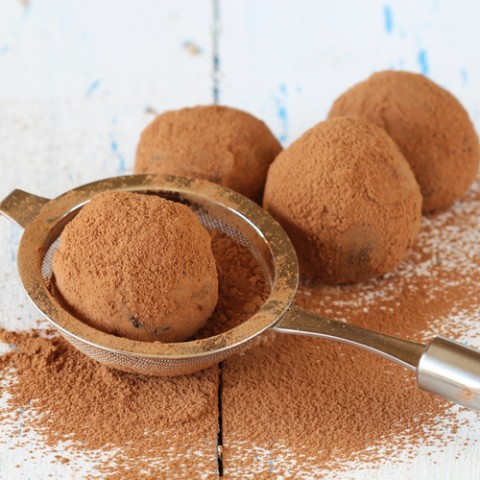 Love Health?
From recipes, trends and discounts, expect great things via email this month.
More Great Reads!
Recipes We Love!